Hi Loves!
Its already August! I can't believe how fast this summer is going by. I wanted to share with all you a few of my summer favorites that I loving right now. Get ready and scroll on down!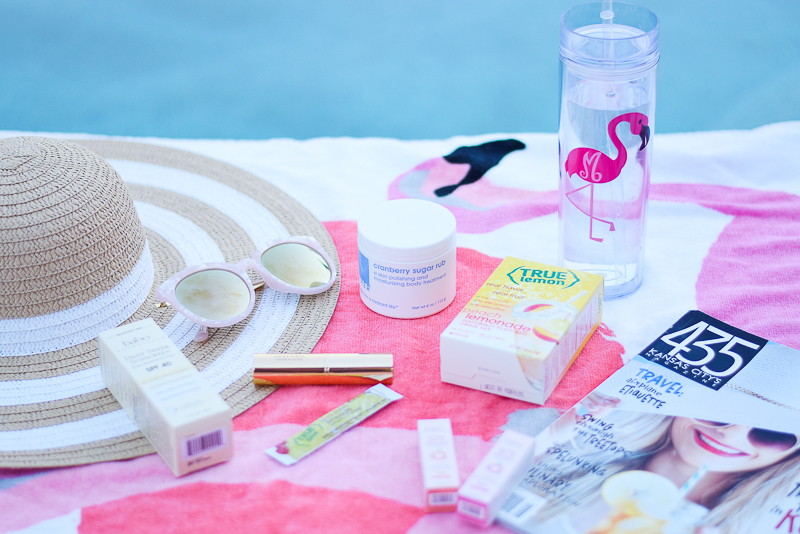 Sunglasses: Zero UV These are such a cool iced pink color with a subtle cat eye. This company has really cute styles and most are around $10. Yup, that's right!!!
Cranberry Sugar Body Scrub: Lather This sugar scrub has pieces of little cranberries in it! Ok so this makes me super happy haha. It leaves your skin soft and smooth and it isn't overly oily as some body scrubs can be (won't name which company –it's one everybody likes, but me).
True Lemon Natural Flavor Packets: True Lemon has many flavors such as lime, orange, wild berry lemonade, and peach lemonade. I am the worst at drinking water and these all natural flavor packets really help my daily intake. No scary chemical fake sugar wannabes here.
Cute flamingo water bottle: Need I say more. Its a flamingo, it has an M, its super cute you can find it at Dawlens
Magazines: I have always had a love of magazines, especially for reading while lounging on my pool float. This 435 Magazine is all about my hometown of Kansas City and the fun new happening things going on there. It makes me miss home, but I love keeping up on how hip KC has become.
Lip Tints & Sunscreen: Babo Botanicals has such great sun protectant products. I love these Lip Tints with SPF 15 and a hint of color. The facial sunscreen is formulated for sensitive skin and SPF 40 for daily wear. Here in Phoenix the sun is why we all live here, but no one wants melanoma or any kind of skin damage. Hence, cover up your lips too–the most delicate skin on your face after your eyelids!!
Gorgeous Gold Tube Cream Blusher: Box of Style This Beauty Counter product is a two in one product for cheeks and lips. This product hydrates and goes on smoothly. It came in my subscription box for the summer from Rachel Zoe. Use this code to get your summer box: PRETTYSSU10
Let me know in the comments below one of your favorite product for the summer!