Hi!
I am sharing some of my favorites makeup and hair products for this month. Some are new favorites  that were gifted to me in my swag bag from the Say Hi Society conference that I attended.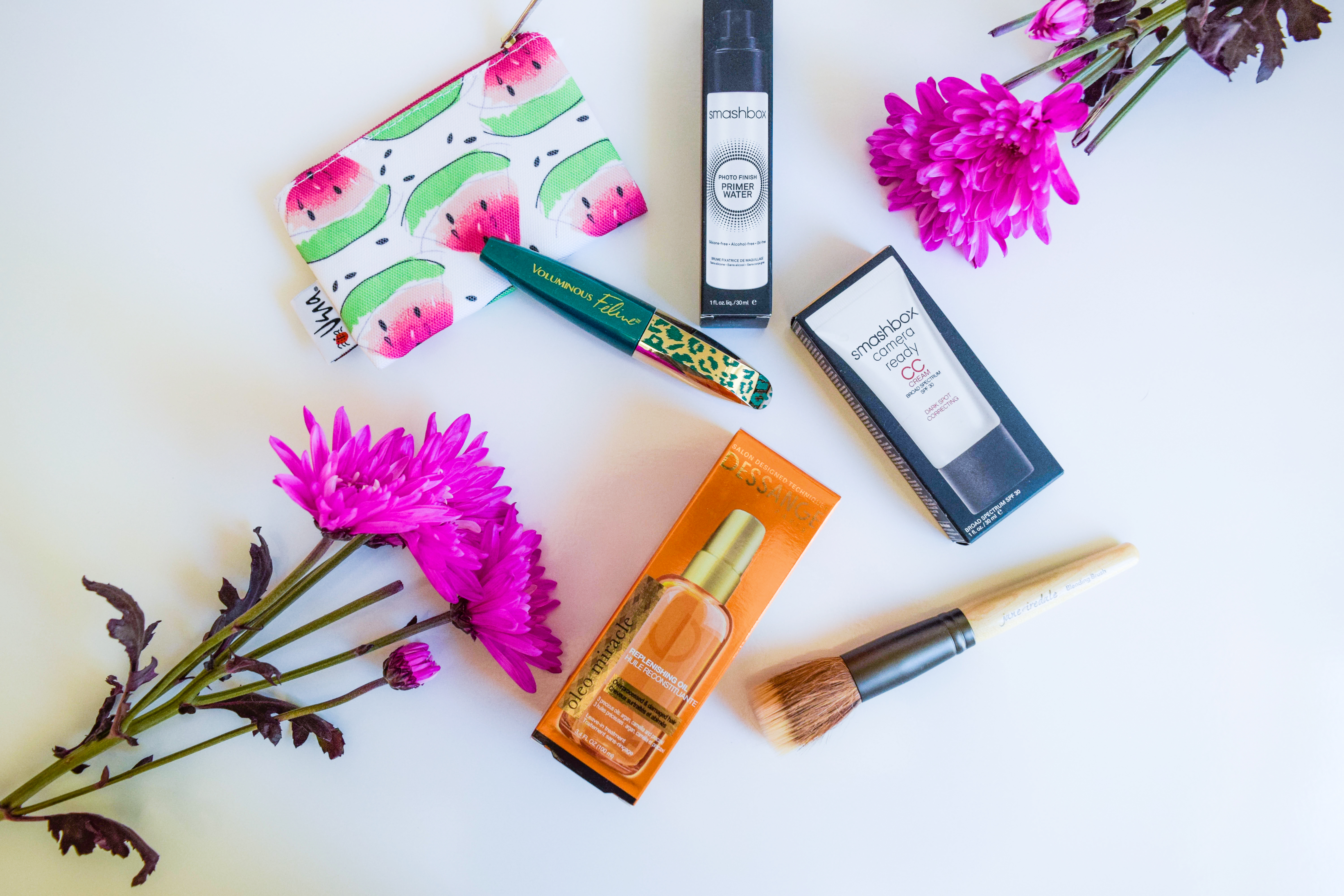 Starting at the top, going clockwise, is the Smashbox Primer Water  I had been using the Smashbox Photo Finish original makeup primer until buying this after seeing another blogger @stilettobeatss recommend this version.  I really like the water base and the fact that you can mist it on, instead of having to blend it in like the previous version.
The product to the right is also from Smashbox. I used to use the Sephora brand CC cream/tinted foundation but they discontinued it. The gals at Sephora stepped up and showed me this version. It cover hyper pigmented skin irregularities so well (including my rosacea on one cheek). I am using the "Light" color on my skin tone and am super happy with the lightweight feel.
I love my new Jane Iredale Foundation Brush. I had bought my first one almost a year ago and was having trouble with the brush hairs shedding everywhere. It was so bad that I finally sent the company an email, and they really stepped up and sent me a brand new one. The new brush is perfect, and I love applying liquid foundation and blending with this brush. Thank you to Jane Iredale for helping me out!
Next, is this new replenishing hair oil for damaged hair from Dessange. This was a gift in my swag bag from the Say Hi Society Conference. A few of you might know that I had my thyroid removed in 2004 after Hashimoto's Thyroid Disease cause a multi-nodular goiter and so out it went. Unfortunately between living in Phoenix with the hardest water know to man and my thyroid issues my hair looks like straw– often. It pokes me!  This oil has left my ends softer but importantly, not limp and oily at all.
Last, was another gift that I found in my swag bag from the Say Hi Society, which is a brand new full sized L'oreal voluminous mascara. This feline type creates volume and fullness–which I love!
Smashbox Photo Water Primer
Smashbox Camera Ready CC Cream
Dessange Paris Oleo Miracle Hair Oil
L'Oreal Voluminous Feline Mascara
I hope that you find my advice helpful. I always write all my posts with honest reviews and truly use these products. This is not a sponsored post, but some affiliate links have been used to take you directly to each product for ease and accuracy too.
Xo,
Marisol